Theralac Probiotic
Returning Customers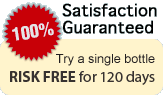 Why Should You Buy Theralac?

Theralac is the #1 Doctor Recommended Probiotic. But if that isn't enough of a reason to begin using it right away, we've given you 10 more reasons to start using Theralac:
A VITAL patented alginate delivery of live organisms through the stomach acid.
5 + 2 Biotherapy - 5 probiotic strains and 2 prebiotics
TIP - Totally Inert Packaging that remains stable at room temperature for up to 30 days This is the best packaging available.
A formulation of 40 billion CFU and 20 billion guaranteed at expiration.
The International Probiotic Association lists all as probiotics - no soil organisms or questionable bacteria.
Doctor recommended and medical strength.
A Third Party Independent analysis that is published online by lot number
Each lot subject to activity tests to determine how much lactic acid is produced
A great value - one bottle can last 10 weeks on a standard program
Theralac:



Probiotic Medical Strength

Activity Guaranteed

Unsurpassed Purity

Only $41.95 for a 10 Week Supply!