Dr. Fuhrmanís LDL Protect
Returning Customers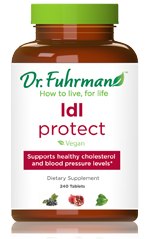 Dr. Fuhrmanís LDL Protect
Features & Benefits:
100% natural ingredients derived from food
Demonstrated to lower LDL cholesterol
Shown to be safe and effective in clinical trials
Integrates cholesterol lowering and cardio-protective compounds
No known contraindications, side effects, or adverse reactions
Shown to reduce blood pressure and atherosclerosis
Protects against risk of dementia, strokes, and other diseases connected with aging
Contains polyphenols that can have significant benefits for the heart and blood vessels of the body
240 tablets - 60 day supply

Developed by Dr. Joel Fuhrman, LDL Protect is a unique product that is meant to help patients who desire to effectively lower their cholesterol without taking drugs that have been known to carry risks and a bevy of side effects for users.
Those who have a LDL cholesterol reading above 100 mg/dl that have failed to see a positive change after an improvement in diet may benefit from LDL Protect Ė which contains plant sterols and pomegranate - a mixture of high quality compounds that have shown to lower cholesterol and protect the heart. There is no other product on the market like LDL Protect that contains these natural, high quality ingredients - and it is both effective as well as safe.
Both plant sterols and pomegranate have shown significant effectiveness in lowering cholesterol. In fact, plant sterols are FDA approved and have long been acknowledged for their ability to reduce LDL cholesterol. Further, pomegranates contain antioxidative compounds that are so potent that they have been shown through medical research studies to not only lower cholesterol but also lower blood pressure and reverse atherosclerosis. But not all pomegranate extracts are the same; some lower grades of extracts do not contain the high levels of polyphenols that will deliver benefit. LDL Protect uses the most superior grade of pomegranate extracts.
Plant Sterols
Scientific literature has long established the benefits of plant sterols that are effective in lowering cholesterol. Also known as phytosterols, plant sterols can be found naturally in such plant-derived food sources as nuts, seeds, grains, and vegetable oils. The human body actually processes plant sterols just as it would cholesterol as its structure is nearly identical to that of human cholesterol. Once ingested, plant sterols compete with cholesterol to be absorbed and carried into the body. Once they are absorbed plant sterols act as cholesterol lowering agents in our body Ė inhibiting the absorption of cholesterol from our food during the digestion process as well as inhibiting our re-absorption of cholesterol that is produced by the liver. In addition to these benefits, plant sterols are also effective for their anti-inflammatory, anti-cancer, anti-atherogenicity, and anti-oxidative properties.
Pomegranates
In addition to being a delicious fruit that has enjoyed enormous popularity as a part of our diets, pomegranates have the unique distinction of containing rich sources of phytochemical compounds that are shown to benefit the heart and blood vessels. In fact, pomegranate juice has been shown to not only lower cholesterol but also lower blood pressure and reduce heart blockages known as atherosclerosis.
A recent medical study that concluded in 2004 focused on heart patients that suffered from severe carotid artery blockages. For one full year, these patients were given an ounce of pomegranate juice on a regular basis. At the completion of the study the participantsí blood pressure was lowered by more than 20% and they also experienced a 30% reduction in atherosclerotic plaque.
Pomegranates contain antioxidative compounds that are potent enough to reduce platelet aggregation and lower blood pressure naturally. Both platelet aggregation and high blood pressure are factors in stroke and heart attack. Further, pomegranates contain significant levels of polyphenols and flavonoids Ė both powerful antioxidants that provide the body protection against cancer and heart disease.
LDL Protect contains pomegranate extract that offers the powerful level of polyphenols that are contained in the seed, husk, and juice of the fruit itself. The extract is also rich in punicalagins which are largely responsible for the health benefits and antioxidant value of the pomegranate.
No contraindications or adverse reactions have been reported in scientific literature in reference to the dosage recommended in LDL Protect.
Suggested Daily Use:
Two tablets taken daily for lowest recommended dosage. May be increased to four tablets daily (taken twice daily) in order to increase cholesterol lowering.
Supplement Facts
Serving Size: 4 Tablets
Servings Per Container: 60
Amount Per Serving†

Chokeberry fruit standardized extract (Aronia melanocarpa)

240 mg*

Green tea leaf extract (providing 200 mg EGCG)

450 mg*

Vegetable sterols (90%)

1200 mg*

Pomegranate fruit extract
(40% punicosides)

100 mg*

Additional Facts:
Vegan
No side effects
Safe and effective in clinical trials
* Daily Value (DV) not established
Other Ingredients: dicalcium phosphate, microcrystalline cellulose, croscarmellose sodium, stearic acid, magnesium stearate, silica, and pharmaceutical glaze.
All ingredients in LDL Protect are completely safe and without side effects.
Additional Facts:
††
Gluten Free
††
Contains corn or corn derivatives
††
Vegan
††
No side effects
††
Safe and effective in clinical trials
* Daily Value (DV) not established



Dr. Fuhrmanís LDL Protect:




100% Natural

Lowers LDL Cholesterol

Reduces blood pressure

Only $57.99 for a 60 Day Supply!