How Probiotics Work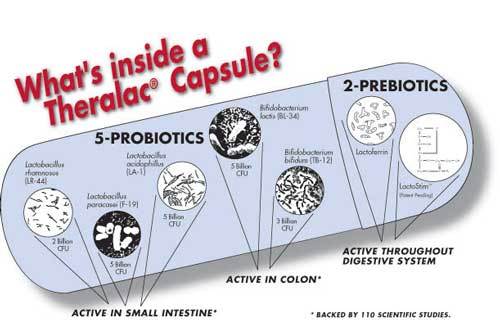 | | |
| --- | --- |
| | How does Theralac work? ACTION: RESULT: 5 symbiotic probiotic strains stick to intestinal soft lining (wall) and help keep it healthy. 2 bioactive prebiotics stimulate the probiotics and enhance their action. A healthy soft lining means improved digestion and regularity. A healthy soft lining means an alert immune system. A healthy soft lining means enhanced absorption of nutrients and dietary supplements. |
Theralac capsules are

A gel-forming matrix protects Theralac's probiotics from stomach acid and assures they enter the intestinal tract at full strength (Patented).

� Colony Forming Units
What is found inside a Theralac capsule?
How does Theralac work in the body?

ACTION:
RESULT:
Theralac's 5 symbiotic probiotic strains stick to intestinal wall's soft lining and assist in keeping it healthy.
Theralac's 2 bioactive prebiotics stimulate the probiotics to enhance their action.
Improved digestion and regularity result from a healthy lining.
The immune system function can be improved by a healthy soft lining.
Enhanced absorption of nutrients and dietary supplements can result from a healthy soft lining.
Colony Forming Units
Theralac capsules are:
A patented gel-forming matrix protects the probiotics contained in Theralac from stomach acid and assures they enter the intestinal tract at their full strength. Other ingredients contained in Theralac
Magnesium Stearate – This is the only pharmaceutical grade, vegetable source product used in the production of Theralac. It allows Theralac to be filled into capsules. Formulas with high percentage of active ingredients like Theralac require magnesium stearate to flow freely. Mg-stearate is safe and has been successfully used in capsules and tablets for more than 75 years.
Grape Skin Extract – This is the only food-grade source used in the formulation of Theralac. It is a natural antioxidant derived from grapes. In Theralac, it is used to protect the probiotics from oxidation in the presence of air and enhances their shelf life (Patented).
Lactoferrin – This is a natural protein (peptide) found in milk that has natural antibiotic properties against gram-negative bacteria such as E. coli. People with a sensitivity to dairy products are generally not affected by lactoferrin. Despite this, the Theralac label indicates milk since this substance is derived from milk. This labeling requirement took effect in January 2006.
Polysorbate-80 – This substance is present in Theralac capsules at less than 10 milligrams in the dry form LactoStim (Patented). LactoStim is a prebiotic which helps stimulate Lactobacillus probiotic species. Theralac uses only food grade polysorbate-80.
Silica – This natural, food-grade substance is included in Theralac to reduce moisture and improve shelf life. Silica, or silicon dioxide, is a micronutrient in human nutrition.
HPMC – This derivative of plant cellulose is used to create the Vcap capsules for Theralac.
Cellulose – This food-grade plant cellulose substance standardizes the probiotic strength of Theralac, which is guaranteed to hold at 20 billion CFU/capsule through expiration.
Theralac:

Probiotic Medical Strength Activity Guaranteed Unsurpassed Purity Only $41.95 for a 10 Week Supply!
ORDER NOW!