Hemp Protein with Sprouted Flax & Maca E3Live
Returning Customers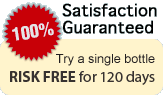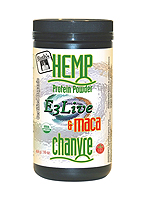 Hemp Protein with Sprouted Flax & Maca E3LiveTM
Features & Benefits:
Protein – includes 14 grams of protein equal to about ¼ of your daily protein requirement
Fiber – includes the equivalent of 20% of your daily requirement of fiber intake
Iron – includes 1/3 of your daily iron requirement – like eating more than ½ lb. of raw spinach!
Vitamin D – includes double your daily requirement of Vitamin D; equivalent to drinking four 8 oz. glasses of milk!
Certified Organic
Bottle - 16 oz.
* Hemp Protein with Maca & E3Live™ includes whole, natural ingredients that deliver enormous health benefits but are not flavorful on their own accord. As this product does not contain any sugar or added sweeteners it needs to be supplemented by adding fruit juice or other natural flavors to make a healthy, great-tasting smoothie.
Smoothie Recipe
1-2 Scoops Hemp Protein of Choice
1/2 - 1 Banana
Vanilla or Chocolate Almond Milk
Ice
Frozen Berries
(for amounts of almond milk, banana, and berries, use your own taste)

Hemp Protein with Maca & E3Live™ contains only three powerful ingredients, all of which are certified organic, including:
Hemp – or cannabis sativa – is a plant that is used for a variety of purposes including the making of medicines and fibers. The seed, however, provides a deeply rich source of protein and oil that contains Omega 6 and 3.
Maca – a Peruvian root vegetable recognized as a superfood, meca delivers a comprehensive source of phytosterols, iodine, and zinc – as well as other trace minerals. Meca works to increase energy, sexual function, and digestion, as well as balance hormones and improve mental focus.
E3Live – the purest of algae that is taken from Upper Klamath Lake in Oregon. E3Live contains superior health benefits and is recognized as the healthiest of algae on the planet – a food that is perfect in its natural formulation and supports overall health.
Hemp Protein with Maca & E3Live™ delivers a comprehensive source of nutrition that provides protein, fiber, iron, and Vitamin D – as well as a variety of trace minerals - and achieves amazing results in terms of energy, improved health, and hormonal balance. Additionally, at just 120 calories, Hemp Protein with Maca & E3Live™ helps support weight management.
Nutritional Info
Serving Size
30 g (2 Scoops)
Amount
%
Daily Value
Calories
120 Cal
Total Fat
2.5g
4%
Saturated
0.3g
2%
Trans
0g
Polyunsaturated
2g
Omega-6
1.5g
Omega-3
0.4g
Monounsaturated
0.3g
Cholesterol
0mg
0%
Sodium
5mg
0%
Potassium
420mg
12%
Carbohydrate
9g
3%
Fiber
5g
Sugar
3g
Protein
14g
Calcium
6%
Iron
35%
Vitamin D
200%
Vitamin E
6%
Phosporus
45%
Magnesium
90%
Zinc
35%
Selenium
35%
Copper
30%
Manganese
190%
Chromium
6%
Molymdenum
80%
* Based on a 2,000 calorie diet.
Ingredients
Certifiedo organic hemp protein, certified organic maca E3Live.
Hemp Protein with Maca & E3LiveTM




Comprehensive Source of Nutrition

Helps Maintain Weight

Supports Hormonal Balance

Elevates Energy Level

Only $29.95!