Sufficient C
Returning Customers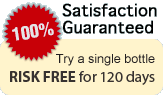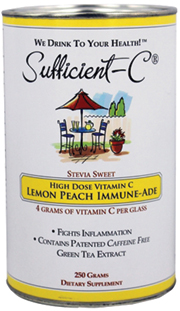 Sufficient-C High Dose Vitamin C Lemon-Peach Drink Mix
Sufficient C is a high-strength vitamin C supplement that's designed to deliver enhanced immune support in a form that is highly absorbable, and also tastes great. Consuming large amounts of concentrated Vitamin C can often be a daunting task, particularly when poor taste and poor texture get in the way of your efforts. That's why sufficient C has been carefully formulated to combine plentiful amounts of ascorbic acid with green tea extract, L-Lysine, Bromelain and Stevia (not sugar) to create a lemon peach iced-tea powder that's very refreshing, and very easy to use.

Features & Benefits:

Outstanding Natural Lemon Peach Flavor
Up to 4,000 mg. Non-GMO Vitamin C!
100 mg. Teavigo® patented green tea extract
1300 mg. of L-Lysine
800 mg. Bromelain
Sweetened with Stevia
Gluten-Free, Vegan, Caffeine & Sugar Free
natural "real" flavors
Suggested Daily Use:
To enjoy the full benefits of Sufficient C, simply mix one or two full scoops (enclosed) into a glass of filtered water. Use two full scoops for maximum impact.
Once opened, Sufficient C should be stored in a cool, dry place.
Supplement Facts:
Serving Size: 2 scoops
Serving Per Container: 30
Amount Per Serving
% Daily Value
Calories
13
Total carbohydrates
2 g
<1%*
Vitamin C,
(as ascorbic acid)
4000 mg
6667%
L-Lysine
1300 mg
†
Bromelain
800 mg
†
EGCG Green Tea Extract

100 mg
†
Daily Value(DV) not established.
* based on 2,000 calorie diet.
Other ingredients: natural flavoring, NON-GMO maltodextrin, Stevia.




Sufficient-C High Dose Vitamin C Lemon-Peach Drink Mix




Great Tasting

Only $38.99 for 30 servings




ORDER NOW!